Join our innovative online program!
Leading in Analytics
is an innovative, completely online and fully facilitated 8-week program created in partnership with Informs for business leaders, analytics professionals, and others responsible for using data to inform critical decisions. It has been intentionally designed to provide insights, knowledge, and practical leadership skills to develop and manage effective analytics functions within any organization.
While other programs will expose participants to the thoughts and experience of a professor or an industry professional, the LIA curriculum was developed in collaboration among fifty industry leading data scientists, academics, executives, and other subject matter experts. It has been described as "Not your run-of-the-mill leadership program" and "Unprecedented!" by graduates.
LIA was designed specifically to inform executives, and to develop and mentor promising leaders from both the technical and business sides of an organization, regardless of the industry or setting. Leadership matters, and this is even more important in successfully executing analytics.
What Makes LIA Innovative?
Unlike other webinar-based distance learning programs that emphasize solo learning, LIA is built around interactivity and community while retaining the convenience of self-paced learning. The program is guided by an expert moderator to help keep participants on track and a world-class faculty of prominent public, private and academic sector leaders deliver engaging and thought-provoking sessions.
"This program has given me the insight, understanding, and knowhow I'll need to help bring my organization into the world of data analytics. It has also connected me with an incredible group of people who I can continue to learn from and be a resource for."
- Deputy County Administrator, Wisconsin
"This course is for both the expert and rookie to the analytics process. We learned from both the curriculum provided and the cohorts weekly discussion. The future of an organization depends on involving analytics in their management decisions."
- Deputy Treasurer, Texas
"This course gave me a blast of wisdom from people that I would have likely never have met or encountered in my professional journey. This course has given me knowledge that would take decades to learn on my own."
- Marketing Data Scientist, Red Hat

who want to fully understand how to establish and nurture an analytics function within their organization will find the roadmap they need without getting too deep into the weeds.

and process owners will gain an understanding of the analytics process, which will result in an enhanced ability to manage an analytics function and team to maximize the likelihood of success.

with IT and data sciences backgrounds will likewise gain an understanding of how to integrate the technical and business operations to produce meaningful, actionable results.
The growing demand for analytics is unprecedented. So too is the need for analytics professionals who are equipped as leaders, capable of aligning teams, navigating the complexity of organizational change, and delivering increased value to stakeholders.

For every analytics professional in an organization there are up to ten business professionals who need to understand, and provide leadership to, the analytics team. True success is found in the alignment of these business and analytics professionals with informed executives who ultimately define analytics success. THAT is why Leading in Analytics was conceived and created: To build successful analytics teams.
You deserve to learn from the best and you will in this program. You will learn directly from the creators of The Five Manageable Tasks Of Analytics, Karl Kempf and Polly Mitchell-Guthrie. You will also learn from Bill Franks from Keenesaw State University, Steve Stone from Lowe's, Josh Belliveau from Tableau, Josh Cazier from Qualtrics, Bill Disch from DataRobot, Patrick Getzen from Blue Cross Blue Shield, Ahmer Inam from Nike, Wayne Thompson from SAS and other industry leading data scientist, academicians, and other subject matter experts to develop and mentor promising leaders and data analysts in your organization. This video spotlights some of the expert faculty you will learn from throughout this program; they have made Leading In Analytics possible.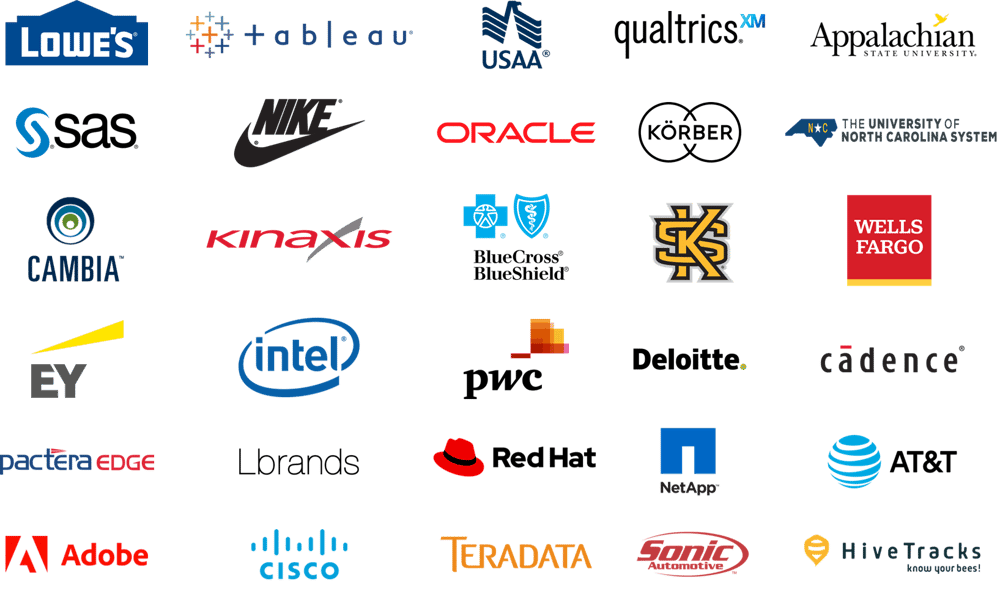 We offer two cohorts per year, starting in February and October. Click on the links below to download program calendars.
What Is The Time Commitment?
LIA is built to accommodate busy work schedules with self-paced learning. The 8-week program is broken down into weekly modules. Each module includes a one-hour live webinar and one-hour breakout discussion, plus 2-3 hours of self paced assignments ranging from 3 to 35 minutes in length. (Live webinars are recorded – so don't worry if you miss one!)
In addition to videos, reading, writing and reflection, participants are placed in a small group cohort where they'll build their network, receive support from peers facing similar challenges and opportunities, and celebrate successes.
LIA focuses on eight practical areas that are critical to analytics success, teaching participants how to effectively manage them:
1. Why Analytics:
Showcase the very real and critical role that analytics has in personal and business success.
2. The Business Problem:
Help managers know where to apply analytics in their organizations, including finding the right problems and prioritizing their efforts.
3. The Analytics Team:
Learn the various team members and stakeholders who need to come together to do analytics well and what tools are used for managing them effectively.
4. The Data:
Learn what executives need to do to see that the right data is gathered, prioritized, preserved, and prepared in the right way at the right time.
5. Analytics Tools:
Learn what executives need to do to help choose the right (existing and emerging) tools that best support their analytics process.
6. Execution:
Focus on solid execution including avoiding technical and managerial traps along the way.
7. Analytics Maturity:
Moving beyond the data analytics projects, learn how to grow and mature cultural readiness and data capabilities from hindsight to insight to foresight from projects to processes is the key to successful analytics maturation
8. Analytics Wisdom:
This section focuses on lessons learned and best practices from experts in the field and serves as a capstone to the program.
Learn more about other Leadership programs offered by the Professional Development Academy.
© 2023 Professional Development Academy